Tag Archive: science
March 5, 2018 5:45 pm
Come bring your lunch and join us for a presentation by Dr. Kevin Barrett, Wednesday, March 7, 2018, 12:30-1, in NLIB 1129 Heritage Room on the lower level of the NE Library. His presentation topic for March 7 is on NOAA's latest weather satellite that launched last week.
The first Wednesday of each month February-May, Dr. Barrett will present a topic related to NASA programs in the NE library. As a NASA Solar System Ambassador Volunteer, Dr. Barrett presents topics and invites discussion on the history and current mission of the National Aeronautics and Space Administration. You may be surprised at the things that NASA has accomplished through the years and projects that are in the works. Some things you may not know about Dr. Barrett are that he is a former television weathercaster and science reporter and has a PhD in Environmental Geography from Texas State University and master's and bachelor's degrees in Earth Science from Baylor University. His love of space science developed at an early age when he was inspired by space travel posters hanging in his elementary school classroom. This led to participation in science fairs and rocket clubs, and eventually a science related career.
The Solar System Ambassadors (SSA) program works with motivated volunteers across the nation to share the latest science and discoveries of NASA's space exploration missions through a variety of events that inspire their communities.
Did you know? Without the NASA space program we wouldn't have the following inventions we all know: camera phones, CAT Scans, athletic shoes, dust busters, home insulation, wireless headsets, and the computer mouse, just to name a few. Thank you, NASA!
Further information about the Solar System Ambassadors Program is available at http://www.jpl.nasa.gov/ambassador Dates for April and May presentations in the NLIB 2102 Library Classroom are Apr. 4 and May 2, 12:30-1pm. Come join us!
In NASA, NE Library, Science & Technology, STEM, TCC
November 2, 2017 11:48 am
Raymond Benge, Associate Professor of Physics and Astronomy, TCC NE Campus, gave a presentation on solar eclipses that informed and intrigued the audience at the J. Ardis Bell library on October 17. Professor Benge started out explaining exactly what a solar eclipse is and demonstrating with a globe and ball what the positions of the earth and moon would be in an eclipse. He went on to explain why we don't see eclipses every month because of the slight differences in earth and moon orbits.
In 1878, Fort Worth, Texas, happened to be a hotspot for science observation when seven astronomers set up telescopes on a farm located where the hospital district is now just south of downtown. Because observation of the sun was mostly possible at that time during total solar eclipses, the group of astronomers from Harvard University traveled to Fort Worth to study the Sun's corona, chromosphere, and the solar magnetic field. The NE Campus Heritage Room has a donated copy of an 1878 photo of the astronomers with their telescopes set up for the observation.
Professor Benge traveled to Tennessee for the total solar eclipse of August 21, 2017. This was his first observation of a total solar eclipse and was practice for upcoming eclipses that will be viewable in the DFW area. During the recent 2017 eclipse, he was able to observe differences in shadows, light, temperature, and bird and insect behaviors.
Upcoming Texas viewable solar eclipses to place on your calendar:  October 14, 2023—a deep partial eclipse, and April 8, 2024—a total solar eclipse visible in the DFW area. Keep your fingers crossed for clear skies!
In Astronomy, NE Library, Science & Technology, Solar Eclipse, Special Events, STEM
March 24, 2017 6:36 pm
Spring semester is already half-gone and the Library staff are just as surprised as our students over how quickly this year is flying by.  While you still can, why not MARCH on into the TCC Library  (See what I did there?)  and check out what's on display this month, before it's gone!
Keep Calm and 3D-Print Cool Stuff!
Did you know that TCC Students have access to some pretty sweet 3D-printing technology here in the Library, through our Computer Learning Center?  It's true.  We have two machines  (appropriately named Thing1 and Thing2) and they are capable of producing all kinds of things…  Come and see for yourself!  Along with the display, we've got a small selection of books on 3D printing, as well as the whole maker-space movement.  (Upper level of the library, near the Alumni Honor Wall)
Painting Outside the Lines
Two of our NE Campus English Dept. faculty  (Debra Frances & Angela Pettit)  are sharing one of their favorite hobbies with us.  They both love to paint (and are pretty darn good at it too)!  Come check out the artwork of some very talented professors…  Showing on both the upper and lower floors of the library, throughout the month of March.
Take One For The Road – – Read Travel Books!
Whether you're cliff-diving in Mexico, sight-seeing in New York, exploring the art museums of Paris, or planning the perfect stay-cation at home on the couch with Netflix…  take a Travel Book along!  We've got the experts' guides on who, what, how, and where for the best destinations in the world, as well as some truly hilarious tales of travel and mis-adventure abroad.  Come check 'em out!  …  and for a sample of what fantastic "travel books" are available at your TCC Library, click HERE.   (Upper level of the library, near the Periodicals)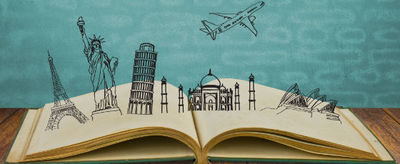 TOYS!
Our Assistant Library Director, Mr. Alex Potemkin, has dug deep into the darkened corners of his childhood  (and his garage)  to share some of his personal collection of classic toys.  You'll see Simpsons figures, WWF wrestlers from years gone-by, super-heroes, Ninja Turtles, and much more!  This display is accompanied by a selection of books on the evolution of toys and toy-making, as well as the history of certain specific toys (such as LEGO, Barbie, and others).  It's playtime!   (Lower level of the library, outside the CLC)
The NE Campus Library Staff are pleased to present a wide variety of displays and exhibits throughout the year.  It is just one more way in which we strive to educate, engage, and entertain our entire campus community, while expanding the learning experience outside of the traditional college classroom.  We hope that you'll come back often  (to the library, and to our blog)  to see what's on display!
In 3D Printing, Arts & Humanities, Just For Fun, NE Library, Non-Fiction, Science & Technology, Spotlight on Exhibits, Student Services, TCC
March 23, 2017 2:20 pm
Did you know that there are over 600 species of birds that can be seen in Texas at some part of the year? Associate Professor Tim Sebesta is a bird enthusiast here at the TCC NE campus who will inform us about birding in the presentation "Beginning Bird Watching" in the NE library on April 7, 12-30-1:30. (above photo by Collegian reporter Tabitha Redder)
With Bachelors and Master's degrees in kinesiology, Tim Sebesta teaches kinesiology classes on the NE Campus, but when not teaching, birds are never far from his thoughts. A south Texas native, Prof. Sebesta became interested in birds as a young child. He was raised on a farm and made many trips with his dad to the local feed store. He was intrigued by the purple martin houses he saw there and begged his father for one for their farm. He's been involved in amateur birding ever since. At the other colleges in New York and Texas where he has taught, he has always been involved on campus in teaching others about birds.
At the NE campus Prof. Sebesta teaches classes and is the faculty advisor for the tennis club and the Catholic Student Union. He has also led the way to bring more birds to the NE campus by getting purple martin houses, bird feeders, and bluebird boxes added in various places. He's also started identifying birds seen on campus. If you'd like to know more about these activities, contact Prof. Sebesta by email at tim.sebesta@tccd.edu
Join us in NLIB 2102 from 12:30-1:30 on April 7, 2017 for "Beginning Bird Watching."
For more information about birding in Texas and Collegian articles about previous activities on the TCC NE campus, click on the following links. Print books in the library about birds are in the call number QL600s.
TOS Handbook of Texas Birds (TCC e-book)
From Texas Parks & Wildlife Department: Texas Birds
Collegian article from March 8, 2016 "NE Campus Provides Songbirds Resting Stop"
Collegian article from Nov. 17, 2015, "NE Recognized for Friendliness Toward Wildlife"
"All Nature seems at work. Slugs leave their lair –
The bees are stirring – birds are on the wing –
And Winter, slumbering in the open air,
Wears on his smiling face a dream of Spring!"
(From Samuel Taylor Coleridge's poem "Work without Hope", 1825)
In Bird Watching, NE Library, Science & Technology, Uncategorized
March 22, 2017 8:54 am
Visit the NE library in April to discover why chemistry is important to all of us. The library will feature a display of chemical models and a slide presentation on the history of chemistry shared and coordinated by Dr. Kenneth Drake, and a selection of books for check-out.
"Every aspect of the world today – even politics and international relations – is affected by chemistry."
(Linus Pauling, American chemist, biochemist, peace activist, author, and educator, 1901-1994)
It's almost impossible to think of a day in everyday life that doesn't involve chemistry. From medicines, cleaning products, water purification, cosmetics, to cooking and our environment, we are surrounded by chemistry. Dr. Kenneth Drake, Ph.D., Associate Professor of Physical Science since 2014 at the NE Campus knows this because he teaches it every day. Dr. Drake's subject matter expertise is in the area of stress resistance and cellular drug accumulation defect seen in certain types of cancer. Dr. Drake previously taught at the University of Dallas and Arizona State University. He likes teaching at the community college level as he can directly see his impact on students and enjoys inspiring the next generation of scientists and entrepreneurs. In addition to teaching, Dr. Drake serves as the faculty advisor for the TCC-NE Chemistry Club and is currently serving on the NE Campus Faculty Association Senate.
"Celebrating Chemistry" J. Ardis Bell Library display and slide presentation will be available to view on the upper level of the library throughout the month of April.
Here's a streaming video to whet your appetite about the importance of chemistry: "Chemical Equations in the Real World"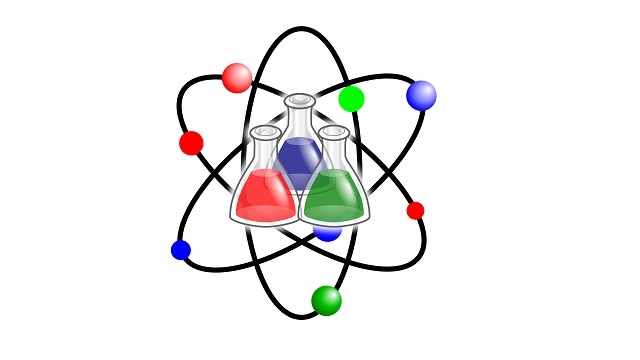 In Chemistry, NE Library, Science & Technology, STEM