Tag Archive: observances
January 30, 2020 2:38 pm
Join the Northeast Campus in celebrating Black History Month. The campus will host a variety of events highlighting contributions and foster an open environment to learn about Black heritage. Please see the flyer below for times and dates.
Email cara.walker@tccd.edu for specific questions.
In Arts & Humanities, Business & Social Sciences, History, Just For Fun, News, Observances, Special Events, TCC
April 10, 2019 6:00 pm
Libraries = Strong Communities
This year's theme highlights the importance of libraries in our communities.  Libraries are more than books, it is a place that not only provides physical books and computers but also critical community resources, programming for all ages, and expertise not found anywhere else. If you have not visited a library in some time, you might be surprise to find the variety of resources and space available for you to utilize. For more information on how libraries impact the community, please click here to visit the American Library Association website.
Stop by your local TCC library to celebrate!
In Just For Fun, NE Library, News, Observances, TCC
January 18, 2019 11:36 am
"Injustice anywhere is a threat to justice everywhere."
~ Dr. Martin Luther King, Jr.
Martin Luther King, Jr.,  (January 15, 1929 – April 4, 1968)  was born Michael Luther King, Jr., but later had his name changed to Martin. As a young man, he attended segregated public schools in Georgia, graduating from high school at the age of fifteen; he received the B. A. degree in 1948 from Morehouse College, a distinguished institution of Atlanta from which both his father and grandfather had graduated.  After three years of theological study at Crozer Theological Seminary in Pennsylvania (where he was elected president of a predominantly white senior class), he was awarded the B.D. in 1951.  With a fellowship won at Crozer, he enrolled in graduate studies at Boston University, completing his residence for the doctorate in 1953 and receiving the degree in 1955.  In Boston he met and married Coretta Scott, a young woman of uncommon intellectual and artistic attainments.  They had two sons and two daughters together.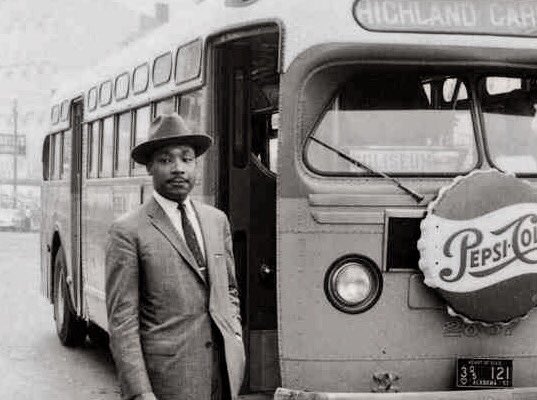 Always a strong worker for civil rights for members of his race, King was named a member of the executive committee of the NAACP (National Association for the Advancement of Colored People), the leading organization of its kind in the nation.  Early in December, 1955, he led the first great non-violent demonstration of contemporary times in the United States:  the bus boycott in Montgomery, Alabama.  The boycott lasted 382 days.  Finally, on December 21, 1956, after the Supreme Court of the United States had declared unconstitutional the laws requiring segregation on buses, Negroes and whites rode the buses as equals.  During these days of the boycott, King was arrested, his home was bombed, and he was subjected to personal abuse, but at the same time he emerged as a strong leader of the African-American community.
In 1957 he was elected president of the Southern Christian Leadership Conference, an organization formed to provide new leadership for the now burgeoning civil rights movement.  King was said to be inspired by the ideals of Christianity and the non-violent protest tactics of Mahatma Gandhi.  In the eleven-year period between 1957 and 1968, King spoke thousands of times, wrote five books, and numerous articles.  In these years, he led a massive protest in Birmingham, Alabama, that caught the attention of the entire world, providing what he called a "coalition of conscience."  He planned the drives in Alabama for the registration of Negroes as voters; he directed the peaceful march on Washington, D.C., of 250,000 people to whom he delivered his now famous "l Have a Dream" speech, he conferred with President John F. Kennedy and campaigned for President Lyndon B. Johnson; he was arrested upwards of twenty times and assaulted at least four times; he was awarded five honorary degrees; was named Man of the Year by Time magazine in 1963; and became not only the symbolic leader of black citizens in America, but also a world figure.
At the age of thirty-five, Martin Luther King, Jr., was the youngest man to have received the Nobel Peace Prize. When notified of his selection, he announced that he would turn over the prize money of $54,123 to the furtherance of the civil rights movement.
On the evening of April 4, 1968, he was assassinated while standing on the balcony of his motel room in Memphis, Tennessee, where he was supposed to lead a protest march in sympathy with striking garbage workers of that city.
REMINDER:   The J. Ardis Bell Library will join all other Tarrant County College campus offices and libraries in CLOSING on Monday, January 21st, in observance of the Dr. Martin Luther King, Jr. national holiday.  We will resume our normal business hours at 7:30 AM on Tuesday morning, January 22nd.
The Northeast Library has a number of biographical items on Dr. King's life and work, as well as an extensive selection of books on the entire Civil Rights Movement of the 1960's.  Please visit the Library and ask any staff member for assistance in locating these items.  Many of them are on display in our lobby throughout the month of January.
Acknowledgements:
*The quotation at the top of this article was taken from Dr. King's "Letter From Birmingham Jail," written inside his cell, after being arrested during a protest in April, 1963.
**Majority of the biographical text above was lifted from excerpts of Dr. King's page at NobelPrize.Org. The biography was written at the time of Dr. King's award (1964) and was later edited and republished in the book, Nobel Lectures.  See their site for more details.
In NE Library, Observances
November 21, 2018 1:53 pm
As many of our readers will know, well-loved comic book writer Stan Lee, born Stanley Martin Lieber, passed away last week, on Monday, November 12, at the age of 95.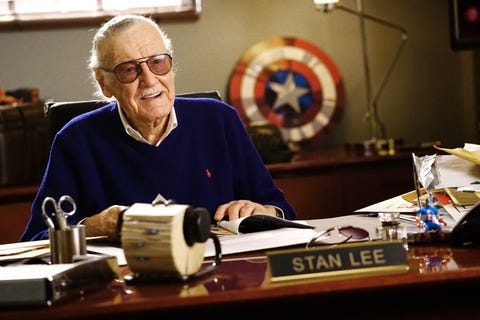 Stan Lee was a comic book author, publisher, editor, cameo film star, and the former president of Marvel Comics.  Lee was the creator of such iconic superheroes as the Avengers,  Spider-Man, the Fantastic Four,  Daredevil, and the X-Men to only name a few…  Throughout his career, Lee became known for introducing comic book readers to the idea of a flawed superhero:  a hero with human failings who, despite being imperfect, could overcome obstacles and still do the right thing.  This was a motif rarely seen before Stan Lee picked up his pen and began writing comics in 1939, for Timely Comics – the company that would later become known as Marvel in the 1960's.
Starting Tues, November 13, and throughout the rest of the Fall semester, the J. Ardis Bell Library is hosting a special exhibit on the upper level, commemorating the life and work of this "Amazing" and imaginative author.  Our memorial display to Stan "The Man" Lee features comic books  (primarily from the 1960's and 70's)  that Lee wrote, as well as later comics published while he was the president of Marvel.  Many of the comics on display are original #1's or "first appearance" issues from some of Stan's most popular series.  All items in the exhibit case are on-loan from the newest staff member to join the NE Library team, Ms. Christie LeMaster, and her husband Chris.
A number of biographies about Stan are on display and available for check out, as well as a selection of current Marvel Comics titles from the library's collection.  Many of the featured characters were among those originally created by Stan Lee.
To search the TCC Library Catalog and see which Marvel comics & graphic novels we carry, click  here, or come in and ask any Library staff member for assistance.
Icon, legend, and a lifelong hero to many of his fans;  Stan Lee was all of this and more.
But for now, he will be greatly missed.
'Nuff said.
In Fiction, Just For Fun, NE Library, Observances
August 31, 2018 4:09 pm
Now that we've got your attention…
Here are the J. Ardis Bell Library's service hours for the upcoming holiday weekend:  (Aug 31 – Sept 3, 2018)
Friday, August 31:   OPEN  7:30 AM – 5:00 PM
Saturday, September 1:   OPEN  7:30 AM – 5:00 PM
Sunday, September 2:   CLOSED ALL DAY
Monday, September 3:   CLOSED ALL DAY
We will resume our regular Library service hours on the morning of Tuesday, September 4th.  Our normal schedule will continue throughout the rest of Fall semester, with the exception of Thanksgiving Break, which falls during the 3rd full week of November.
Do you know the origins of the Labor Day holiday, or why we get the day off?  Check out this recent  ARTICLE  from the New York Times newspaper to find out more.
Hope that everyone's semester is off to a successful start, thus far.  Enjoy your holiday weekend, and we'll see you in the Library soon!
In NE Library, Observances, Special Events