Tag Archive: library displays
October 17, 2019 10:34 am
There is still time to visit the J. Ardis Bell Library on TCC's Northeast Campus and enjoy a timeline of historic Tarrant County.  This fascinating look into the past is being shared with the NE Campus Community by members of the Tarrant County Historical Commission.
The display will be available for viewing on the upper level of the NE Library until Friday, November 22.  Visitors are able to access the exhibit during normal Library business hours.  Classes are welcome.

Along with the 12-week exhibit, the TCHC is partnering with the Library to sponsor a short series of local history presentations.  The first of these, entitled "How the West Was Won" will be held at the rear of the Library's upper floor, on Thurs, October 17th, at 12:30 PM.  Light refreshments will be served.
For library hours o

r any other questions, please call 817-515-6627, or visit us online at library.tccd.edu

In Business & Social Sciences, History, Just For Fun, Special Events
May 22, 2019 3:31 pm
Come and get lost in mankind's shared connection with Nature…  You never know what you'll find when exploring the "Back40."
"Pond Nymph"  and  "Mud Lillies."
"Neked"
The J. Ardis Bell Library – centrally located on the Northeast Campus of Tarrant County College (TCC) – is proud to host a month-long art exhibition, featuring the works of local artist Janlynn Rogers.  The exhibit, entitled "Back40," will run from May 14 thru June 13, 2019, in the main lobby area of the Library.  The display is open to the entire Northeast Campus community during our normal business hours.
An artist's reception will be held at the NE Library on Wednesday, June 5th.  The artist will be available to answer questions from 2-4 PM, and then again from 6-8 PM.  Refreshments provided.
"What the Willow Knows"
When describing her work, Guest Artist Janlynn Rogers wrote:  "Many of my current series involve research of the biophilia hypothesis, that is, the human connection to the natural world, and study of the collective unconscious.  Nature and the cyclic world are ever-present in my work, made apparent in my use of organic shapes, harmonious arrangements, and use of scale.  Life is a measure of definitive time, and death is a measure of worth of life.
My work conveys my struggle to understand the common practice of  sacrificing nature for technology's sake.  It allows me to investigate the comparative value of the empathetic versus the apathetic self, based on our interconnectedness to others in our environment."
"Soul Song"
"Serenity"
Janlynn Rogers is a 2019 graduate from the University of North Texas Arts program, with a double-major in Ceramics and Painting/Drawing.  Come enjoy this diverse exhibit of painting, ceramics, and mixed-media artwork, curated by Ashley Roberts of the NE Library's Computer Learning Center Team.  The display is accompanied by a selection of titles from the Library's collection, providing information on the artist's media and studio tools.
"Little Perspective"  (1 of 3)
For more information on Ms. Rogers and her work, you may visit the artist online at  http://mudfencestudio.myartsonline.com  or follow her on Instagram at  Janrogers8277.
The staff of the Northeast Library are pleased to present a wide variety of displays and exhibits throughout the year.  It is just one more way in which we strive to educate, engage, and entertain our entire campus community, while expanding the learning experience outside of the traditional college classroom.  We hope that you'll come back often  (to the Library, and to our blog page)  to see what's on display!
In Arts & Humanities, NE Library, Spotlight on Exhibits
January 18, 2019 11:36 am
"Injustice anywhere is a threat to justice everywhere."
~ Dr. Martin Luther King, Jr.
Martin Luther King, Jr.,  (January 15, 1929 – April 4, 1968)  was born Michael Luther King, Jr., but later had his name changed to Martin. As a young man, he attended segregated public schools in Georgia, graduating from high school at the age of fifteen; he received the B. A. degree in 1948 from Morehouse College, a distinguished institution of Atlanta from which both his father and grandfather had graduated.  After three years of theological study at Crozer Theological Seminary in Pennsylvania (where he was elected president of a predominantly white senior class), he was awarded the B.D. in 1951.  With a fellowship won at Crozer, he enrolled in graduate studies at Boston University, completing his residence for the doctorate in 1953 and receiving the degree in 1955.  In Boston he met and married Coretta Scott, a young woman of uncommon intellectual and artistic attainments.  They had two sons and two daughters together.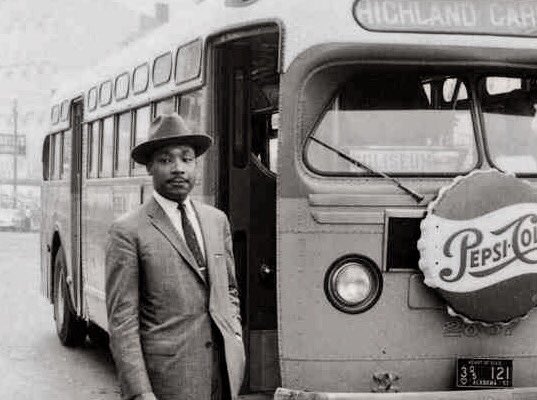 Always a strong worker for civil rights for members of his race, King was named a member of the executive committee of the NAACP (National Association for the Advancement of Colored People), the leading organization of its kind in the nation.  Early in December, 1955, he led the first great non-violent demonstration of contemporary times in the United States:  the bus boycott in Montgomery, Alabama.  The boycott lasted 382 days.  Finally, on December 21, 1956, after the Supreme Court of the United States had declared unconstitutional the laws requiring segregation on buses, Negroes and whites rode the buses as equals.  During these days of the boycott, King was arrested, his home was bombed, and he was subjected to personal abuse, but at the same time he emerged as a strong leader of the African-American community.
In 1957 he was elected president of the Southern Christian Leadership Conference, an organization formed to provide new leadership for the now burgeoning civil rights movement.  King was said to be inspired by the ideals of Christianity and the non-violent protest tactics of Mahatma Gandhi.  In the eleven-year period between 1957 and 1968, King spoke thousands of times, wrote five books, and numerous articles.  In these years, he led a massive protest in Birmingham, Alabama, that caught the attention of the entire world, providing what he called a "coalition of conscience."  He planned the drives in Alabama for the registration of Negroes as voters; he directed the peaceful march on Washington, D.C., of 250,000 people to whom he delivered his now famous "l Have a Dream" speech, he conferred with President John F. Kennedy and campaigned for President Lyndon B. Johnson; he was arrested upwards of twenty times and assaulted at least four times; he was awarded five honorary degrees; was named Man of the Year by Time magazine in 1963; and became not only the symbolic leader of black citizens in America, but also a world figure.
At the age of thirty-five, Martin Luther King, Jr., was the youngest man to have received the Nobel Peace Prize. When notified of his selection, he announced that he would turn over the prize money of $54,123 to the furtherance of the civil rights movement.
On the evening of April 4, 1968, he was assassinated while standing on the balcony of his motel room in Memphis, Tennessee, where he was supposed to lead a protest march in sympathy with striking garbage workers of that city.
REMINDER:   The J. Ardis Bell Library will join all other Tarrant County College campus offices and libraries in CLOSING on Monday, January 21st, in observance of the Dr. Martin Luther King, Jr. national holiday.  We will resume our normal business hours at 7:30 AM on Tuesday morning, January 22nd.
The Northeast Library has a number of biographical items on Dr. King's life and work, as well as an extensive selection of books on the entire Civil Rights Movement of the 1960's.  Please visit the Library and ask any staff member for assistance in locating these items.  Many of them are on display in our lobby throughout the month of January.
Acknowledgements:
*The quotation at the top of this article was taken from Dr. King's "Letter From Birmingham Jail," written inside his cell, after being arrested during a protest in April, 1963.
**Majority of the biographical text above was lifted from excerpts of Dr. King's page at NobelPrize.Org. The biography was written at the time of Dr. King's award (1964) and was later edited and republished in the book, Nobel Lectures.  See their site for more details.
In NE Library, Observances
November 21, 2018 1:53 pm
As many of our readers will know, well-loved comic book writer Stan Lee, born Stanley Martin Lieber, passed away last week, on Monday, November 12, at the age of 95.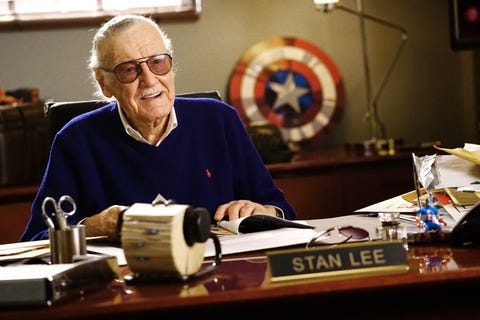 Stan Lee was a comic book author, publisher, editor, cameo film star, and the former president of Marvel Comics.  Lee was the creator of such iconic superheroes as the Avengers,  Spider-Man, the Fantastic Four,  Daredevil, and the X-Men to only name a few…  Throughout his career, Lee became known for introducing comic book readers to the idea of a flawed superhero:  a hero with human failings who, despite being imperfect, could overcome obstacles and still do the right thing.  This was a motif rarely seen before Stan Lee picked up his pen and began writing comics in 1939, for Timely Comics – the company that would later become known as Marvel in the 1960's.
Starting Tues, November 13, and throughout the rest of the Fall semester, the J. Ardis Bell Library is hosting a special exhibit on the upper level, commemorating the life and work of this "Amazing" and imaginative author.  Our memorial display to Stan "The Man" Lee features comic books  (primarily from the 1960's and 70's)  that Lee wrote, as well as later comics published while he was the president of Marvel.  Many of the comics on display are original #1's or "first appearance" issues from some of Stan's most popular series.  All items in the exhibit case are on-loan from the newest staff member to join the NE Library team, Ms. Christie LeMaster, and her husband Chris.
A number of biographies about Stan are on display and available for check out, as well as a selection of current Marvel Comics titles from the library's collection.  Many of the featured characters were among those originally created by Stan Lee.
To search the TCC Library Catalog and see which Marvel comics & graphic novels we carry, click  here, or come in and ask any Library staff member for assistance.
Icon, legend, and a lifelong hero to many of his fans;  Stan Lee was all of this and more.
But for now, he will be greatly missed.
'Nuff said.
In Fiction, Just For Fun, NE Library, Observances
June 19, 2018 5:47 pm
What is Juneteenth?
On September 22nd, 1862, at the height of the Civil War, President Abraham Lincoln issued his Emancipation Proclamation, stating that  –  effective on January 1st, 1863  –  "all persons held as slaves" within the rebel states of the Confederacy "henceforward shall be free."  The proclamation also called for the recruitment and establishment of black military units among the Union forces.  An estimated 180,000 African-Americans went on to serve in the Army, while another 18,000 served in the Navy.
The "War Between the States" was still far from over, however…  and Texas was firmly on the side of the Confederates.  As such, the vast majority of slaves remained in bondage, having no idea of their new legal status as freed men and women until after the war finally ended in 1865.  After the Confederacy surrendered, General Gordon Granger, U.S. Army, was placed in command of Texas.  His ship landed at Galveston on June 19th, 1865, and officially ended slavery in our state, two and a half years after it had been declared over by the President's order.
As the last state in the country to formally recognize the conditions of the Emancipation Proclamation, the freeing of Texas slaves on that day brought about the end of all slavery in the United States.  In the summer of 1979, the state legislature declared June 19th  (or "Juneteenth," as it had come to be known)  an official holiday in Texas.
Major General Gordon Granger*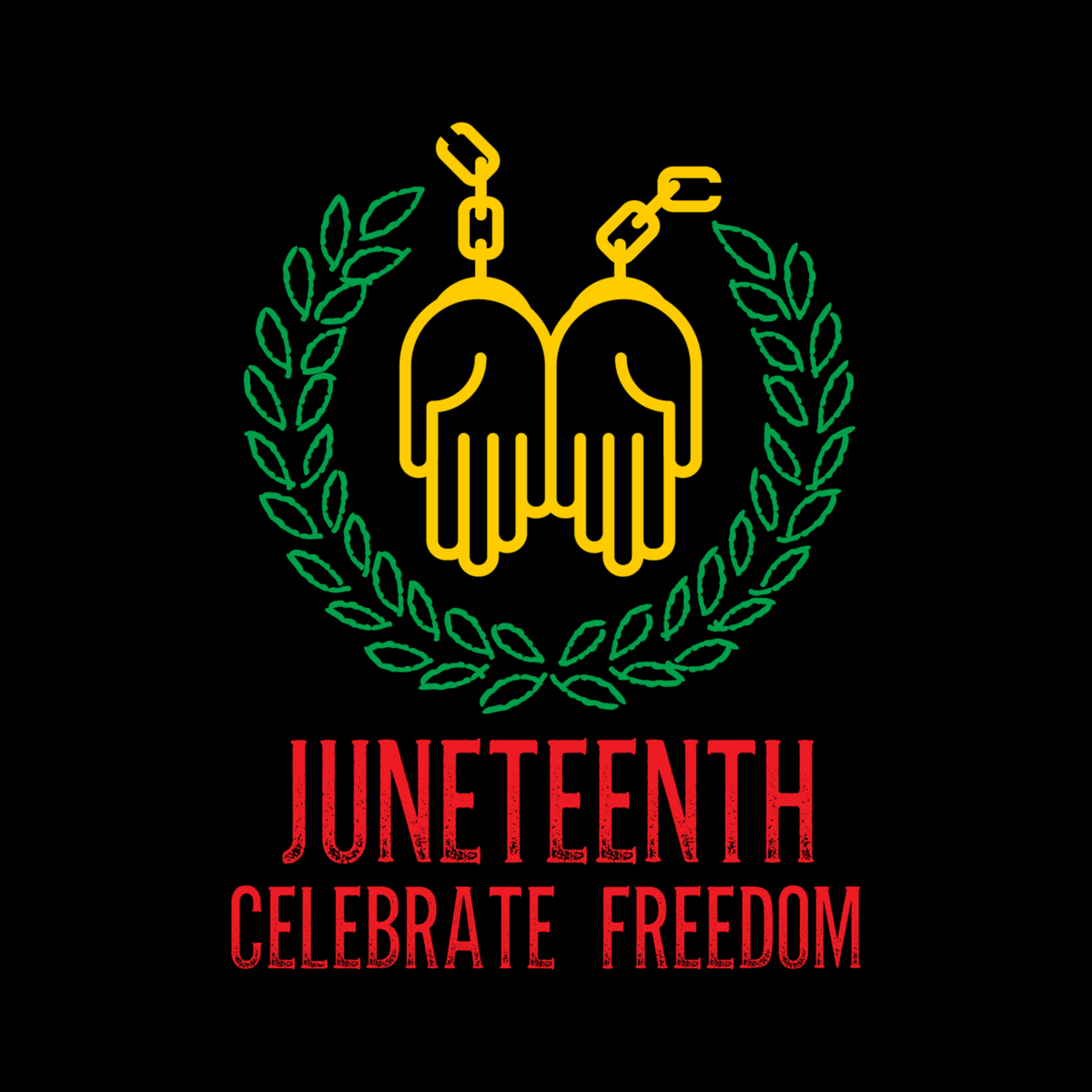 How do people celebrate Juneteenth?
Since it was made an official Texas holiday in the late 'seventies, the celebration of Juneteenth has spread to many other cities and African-American communities around the nation.  It is also often referred to as "African-American Independence Day," or "Freedom Day."  Some communities observe Juneteenth with parades, festivals, or performances of traditional African / African-American music and dancing.  Others see the holiday as a time to remember and reflect on the struggles of the past…  while also celebrating how far we have come.
Many museums, libraries, and schools host special events or programs to commemorate the day…  such as this  EVENT,  taking place on TCC's Northeast Campus this evening.  It is being hosted by the North Central Texas Alumnae Chapter  of  Delta Sigma Theta Sorority, Inc., and members of our campus community are encouraged to RSVP and attend.  There will be performances of music, dance, theater, and spoken word.
Tariah Horton and the J's Diamonds dance troupe perform in the 2017 Juneteenth parade in Austin, TX**
Where can I find out more?
The J. Ardis Bell Library is featuring a display of books and library materials on Juneteenth during the latter half of the month, from June 15-30.  In our main lobby area, students and library patrons can check out ITEMS that discuss the history of the holiday, as well as the institution of slavery in Texas, and other related topics.
Students are also welcome and encouraged to search for more information through our online Library Databases, available 24/7, from any internet-capable device.  Simply log in with your current TCC student credentials  (WebAdvisor ID & Password).
We can also recommend the following online articles from PBS,  the Smithsonian Institute,  and the History Channel.
Happy Juneteenth!  We'll see you in the Library!
*Image of General Granger, courtesy of civilwartalk.com
**Image of parade, courtesy of KUT 90.5  National Public Radio – Austin, TX
In NE Library, Observances, Special Events, Spotlight on Exhibits, Student Services