Tag Archive: hobby
November 6, 2019 2:47 pm
Join the Northeast Library in celebrating National Writing Month!
November is NaNoWriMo, a month-long writing challenge. Starting in 1999, the challenge to write 50,000 words over 30 days has spawned a community of writers, readers, and everyone in between to come together and make time for writing. Every Monday the Northeast Library will host a meet-up for writers.  
For more information on writing resources, visit
NaNoWriMo.
In Arts & Humanities, Fiction, Just For Fun, NaNoWriMo, NE Library
November 21, 2018 1:53 pm
As many of our readers will know, well-loved comic book writer Stan Lee, born Stanley Martin Lieber, passed away last week, on Monday, November 12, at the age of 95.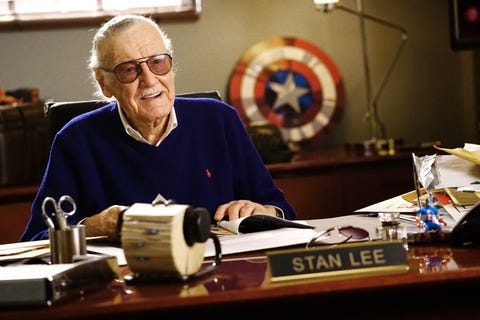 Stan Lee was a comic book author, publisher, editor, cameo film star, and the former president of Marvel Comics.  Lee was the creator of such iconic superheroes as the Avengers,  Spider-Man, the Fantastic Four,  Daredevil, and the X-Men to only name a few…  Throughout his career, Lee became known for introducing comic book readers to the idea of a flawed superhero:  a hero with human failings who, despite being imperfect, could overcome obstacles and still do the right thing.  This was a motif rarely seen before Stan Lee picked up his pen and began writing comics in 1939, for Timely Comics – the company that would later become known as Marvel in the 1960's.
Starting Tues, November 13, and throughout the rest of the Fall semester, the J. Ardis Bell Library is hosting a special exhibit on the upper level, commemorating the life and work of this "Amazing" and imaginative author.  Our memorial display to Stan "The Man" Lee features comic books  (primarily from the 1960's and 70's)  that Lee wrote, as well as later comics published while he was the president of Marvel.  Many of the comics on display are original #1's or "first appearance" issues from some of Stan's most popular series.  All items in the exhibit case are on-loan from the newest staff member to join the NE Library team, Ms. Christie LeMaster, and her husband Chris.
A number of biographies about Stan are on display and available for check out, as well as a selection of current Marvel Comics titles from the library's collection.  Many of the featured characters were among those originally created by Stan Lee.
To search the TCC Library Catalog and see which Marvel comics & graphic novels we carry, click  here, or come in and ask any Library staff member for assistance.
Icon, legend, and a lifelong hero to many of his fans;  Stan Lee was all of this and more.
But for now, he will be greatly missed.
'Nuff said.
In Fiction, Just For Fun, NE Library, Observances
October 31, 2018 6:24 pm
Bringing the Birds to Your Backyard
Presentation by Tim Sebesta in NLIB #2102
Fri, Nov 9, 2018   12:30-1:30 PM
Did you know that there are over 600 species of birds that can be seen in Texas at some part of the year?  Kinesiology Associate Professor Tim Sebesta is a bird enthusiast here at the TCC NE campus who will inform us about winter birding in the presentation "Bringing the Birds to Your Backyard."
Bring your lunch and join us in NLIB 2102 from 12:30-1:30 on Friday, November 9, for Professor Sebesta's presentation.  We'll have cookies, lemonade, and tea to share.  All students, faculty, staff, and community members are invited to attend.
For more information about birding in Texas and Collegian articles about previous activities on the TCC NE campus, click on the following links.
Print books in the library about birds are in the call number QL600s
"Winter Back Yard Birds" from Chris Jackson's DFW Urban Wildlife blog post 2-2-16
http://dfwurbanwildlife.com/2016/02/02/chris-jacksons-dfw-urban-wildlife/winter-back-yard-birds/
2. TOS Handbook of Texas Birds (TCC e-book)
https://ebookcentral.proquest.com/lib/tccd-ebooks/detail.action?docID=1604318#
3. From Texas Parks & Wildlife Department: "Texas Birds"
https://tpwd.texas.gov/publications/pwdpubs/media/pwd_br_w7000_1673a.pdf
4. Collegian article from April 17, 2018 "Professor to share how to help migrating birds"
http://collegian.tccd.edu/?p=36875
5. Collegian article from March 8, 2016 "NE Campus Provides Songbirds Resting Stop"
http://collegian.tccd.edu/?p=29196
6. Collegian article from Nov. 17, 2015, "NE Recognized for Friendliness Toward Wildlife"
http://collegian.tccd.edu/?p=27885
For more information, contact Beth Mullins at beth.mullins@tccd.edu
In Bird migration, Bird Watching, NE Library, Special Events
November 8, 2017 3:45 pm
Do you have the next Great American Novel inside you? Well, we say the world needs your novel. And now is your chance to get it done, or at least, get it started.
November is National Novel Writing Month. The goal is to write 50,000 words during the month. Of course, there is no requirement to write that many words. For some, it is simply a great opportunity to get some ideas out of their head and down on paper or in print. Perhaps you might only create an outline to work on during the winter months.
Whatever you decide to do, the J. Ardis Bell Library on the NE Campus is one of the newest "Come Write In" locations in our area to help support your passion for telling stories. The Library will be hosting Come Write In times each Monday in November from 7-9pm. We will start things off with a Get Acquainted session on Monday, October 30, also from 7-9pm. All sessions will meet in NLIB 2102.
If you decide to participate, you will become a WriMo. You can find out more information at: https://nanowrimo.org/how-it-works
In addition, there is a bonus. It is an opportunity to meet like-minded individuals who also crave the craft of telling a story.
In Arts & Humanities, Fiction, NaNoWriMo, NE Library, Special Events
September 11, 2017 2:59 pm
Now showing at the J. Ardis Bell Library on the Northeast Campus of Tarrant County College, from September 5th thru October 2nd, 2017…
The biennial "Best of Texas Clay" exhibit is hosted every other year by the Texas Pottery & Sculpture Guild.  In their own words, the Guild  (TPSG, for short)  is "an organization of three-dimensional artists that range in skill from novice to professional."  To learn more about the Guild and its members, we invite you to visit their website  (see the link shown above)  or seek them out on social media.
The stated goals of the TPSG are:
To raise public awareness of and appreciation for contemporary three-dimensional arts
To provide regular opportunities for artistic growth for its members
To create a unique environment in which clay artists enrich each other's lives and creative impulses through friendship
For 2017, the Guild selected the J. Ardis Bell Library as the gallery space for their 4th biennial exhibition.  This display of work from more than 30 local artists, with over 50 pieces of art in multiple styles, will be enjoyed by our campus community throughout the month of September.  This promises to be an outstanding show with some amazing works of art!
The NE Library is both pleased and proud to partner with the TPSG artists' group, as well as the NE Campus Fine Arts Department and the Northeast Campus Association of Potters & Sculptors (NECAPS) student group.  The exhibit will be accompanied by an assortment of library books and materials on pottery and sculpting.
To browse our collection of titles on these ancient artforms, click  HERE  and  HERE  or come and visit us in the library.  We'll be glad to assist you in finding more information.
Please join us for an artists' reception on the evening of Friday, September 15th, from 6-8:30 p.m.  There will be refreshments, live music, and the chance to meet & greet many of the sculptors and potters who created these amazing works.  We hope to see you there.
The staff of the Northeast Library are pleased to present a wide variety of displays and exhibits throughout the year.  It is just one more way in which we strive to educate, engage, and entertain our entire campus community, while expanding the learning experience outside of the traditional college classroom.  We hope that you'll come back often  (to the library, and to our BLOG page)  to see what's on display!
In Arts & Humanities, NE Library, Special Events, Spotlight on Exhibits, TCC