Tag Archive: history
January 30, 2020 2:38 pm
Join the Northeast Campus in celebrating Black History Month. The campus will host a variety of events highlighting contributions and foster an open environment to learn about Black heritage. Please see the flyer below for times and dates.
Email cara.walker@tccd.edu for specific questions.
In Arts & Humanities, Business & Social Sciences, History, Just For Fun, News, Observances, Special Events, TCC
January 18, 2019 11:36 am
"Injustice anywhere is a threat to justice everywhere."
~ Dr. Martin Luther King, Jr.
Martin Luther King, Jr.,  (January 15, 1929 – April 4, 1968)  was born Michael Luther King, Jr., but later had his name changed to Martin. As a young man, he attended segregated public schools in Georgia, graduating from high school at the age of fifteen; he received the B. A. degree in 1948 from Morehouse College, a distinguished institution of Atlanta from which both his father and grandfather had graduated.  After three years of theological study at Crozer Theological Seminary in Pennsylvania (where he was elected president of a predominantly white senior class), he was awarded the B.D. in 1951.  With a fellowship won at Crozer, he enrolled in graduate studies at Boston University, completing his residence for the doctorate in 1953 and receiving the degree in 1955.  In Boston he met and married Coretta Scott, a young woman of uncommon intellectual and artistic attainments.  They had two sons and two daughters together.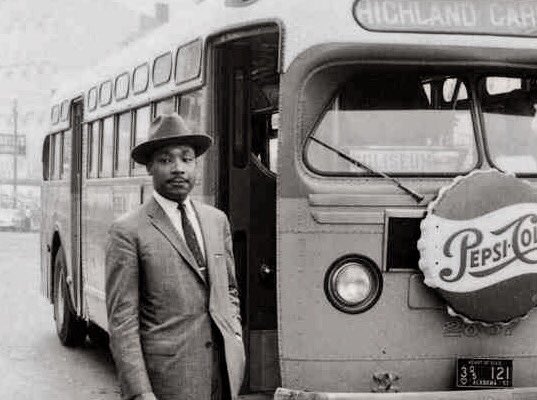 Always a strong worker for civil rights for members of his race, King was named a member of the executive committee of the NAACP (National Association for the Advancement of Colored People), the leading organization of its kind in the nation.  Early in December, 1955, he led the first great non-violent demonstration of contemporary times in the United States:  the bus boycott in Montgomery, Alabama.  The boycott lasted 382 days.  Finally, on December 21, 1956, after the Supreme Court of the United States had declared unconstitutional the laws requiring segregation on buses, Negroes and whites rode the buses as equals.  During these days of the boycott, King was arrested, his home was bombed, and he was subjected to personal abuse, but at the same time he emerged as a strong leader of the African-American community.
In 1957 he was elected president of the Southern Christian Leadership Conference, an organization formed to provide new leadership for the now burgeoning civil rights movement.  King was said to be inspired by the ideals of Christianity and the non-violent protest tactics of Mahatma Gandhi.  In the eleven-year period between 1957 and 1968, King spoke thousands of times, wrote five books, and numerous articles.  In these years, he led a massive protest in Birmingham, Alabama, that caught the attention of the entire world, providing what he called a "coalition of conscience."  He planned the drives in Alabama for the registration of Negroes as voters; he directed the peaceful march on Washington, D.C., of 250,000 people to whom he delivered his now famous "l Have a Dream" speech, he conferred with President John F. Kennedy and campaigned for President Lyndon B. Johnson; he was arrested upwards of twenty times and assaulted at least four times; he was awarded five honorary degrees; was named Man of the Year by Time magazine in 1963; and became not only the symbolic leader of black citizens in America, but also a world figure.
At the age of thirty-five, Martin Luther King, Jr., was the youngest man to have received the Nobel Peace Prize. When notified of his selection, he announced that he would turn over the prize money of $54,123 to the furtherance of the civil rights movement.
On the evening of April 4, 1968, he was assassinated while standing on the balcony of his motel room in Memphis, Tennessee, where he was supposed to lead a protest march in sympathy with striking garbage workers of that city.
REMINDER:   The J. Ardis Bell Library will join all other Tarrant County College campus offices and libraries in CLOSING on Monday, January 21st, in observance of the Dr. Martin Luther King, Jr. national holiday.  We will resume our normal business hours at 7:30 AM on Tuesday morning, January 22nd.
The Northeast Library has a number of biographical items on Dr. King's life and work, as well as an extensive selection of books on the entire Civil Rights Movement of the 1960's.  Please visit the Library and ask any staff member for assistance in locating these items.  Many of them are on display in our lobby throughout the month of January.
Acknowledgements:
*The quotation at the top of this article was taken from Dr. King's "Letter From Birmingham Jail," written inside his cell, after being arrested during a protest in April, 1963.
**Majority of the biographical text above was lifted from excerpts of Dr. King's page at NobelPrize.Org. The biography was written at the time of Dr. King's award (1964) and was later edited and republished in the book, Nobel Lectures.  See their site for more details.
In NE Library, Observances
June 19, 2018 5:47 pm
What is Juneteenth?
On September 22nd, 1862, at the height of the Civil War, President Abraham Lincoln issued his Emancipation Proclamation, stating that  –  effective on January 1st, 1863  –  "all persons held as slaves" within the rebel states of the Confederacy "henceforward shall be free."  The proclamation also called for the recruitment and establishment of black military units among the Union forces.  An estimated 180,000 African-Americans went on to serve in the Army, while another 18,000 served in the Navy.
The "War Between the States" was still far from over, however…  and Texas was firmly on the side of the Confederates.  As such, the vast majority of slaves remained in bondage, having no idea of their new legal status as freed men and women until after the war finally ended in 1865.  After the Confederacy surrendered, General Gordon Granger, U.S. Army, was placed in command of Texas.  His ship landed at Galveston on June 19th, 1865, and officially ended slavery in our state, two and a half years after it had been declared over by the President's order.
As the last state in the country to formally recognize the conditions of the Emancipation Proclamation, the freeing of Texas slaves on that day brought about the end of all slavery in the United States.  In the summer of 1979, the state legislature declared June 19th  (or "Juneteenth," as it had come to be known)  an official holiday in Texas.
Major General Gordon Granger*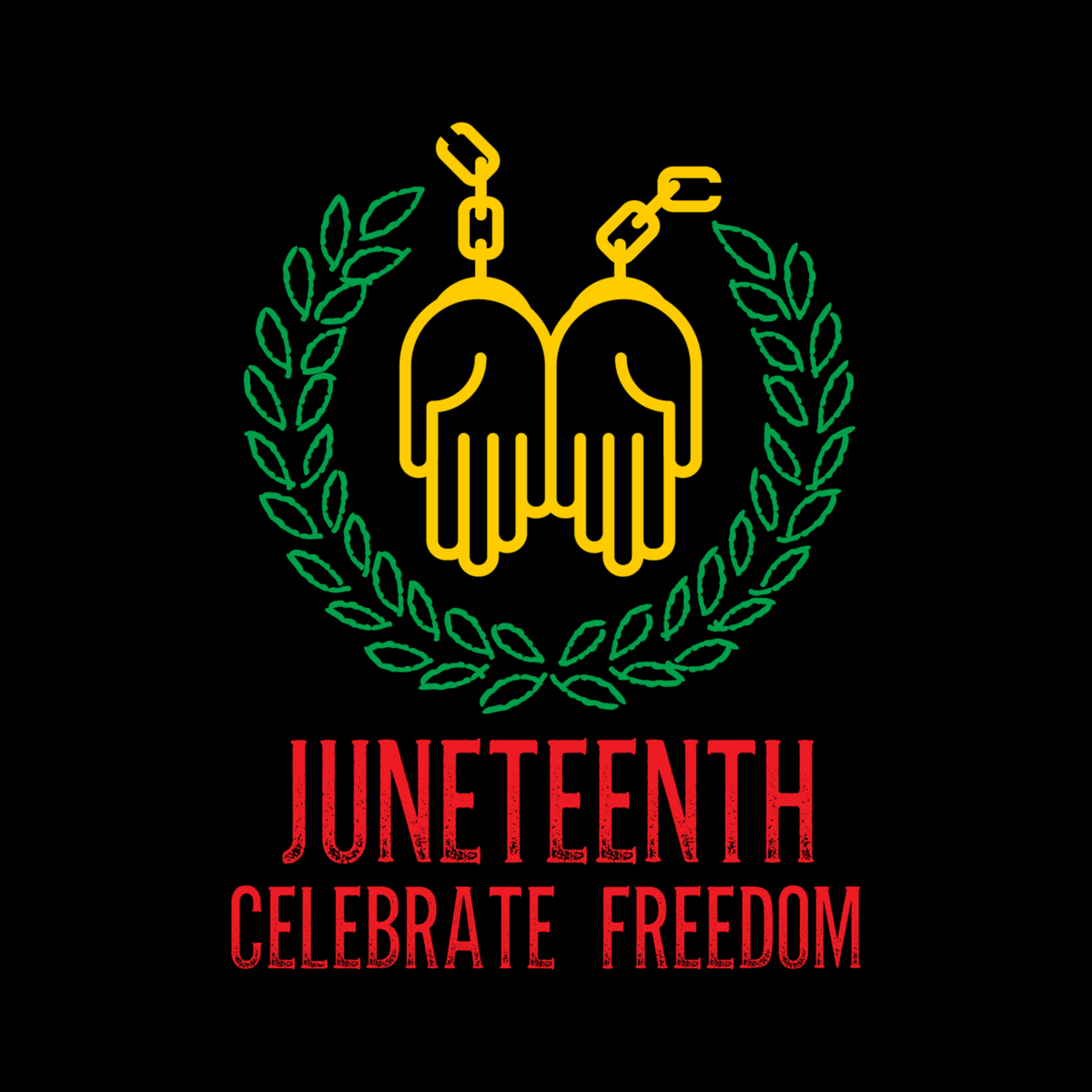 How do people celebrate Juneteenth?
Since it was made an official Texas holiday in the late 'seventies, the celebration of Juneteenth has spread to many other cities and African-American communities around the nation.  It is also often referred to as "African-American Independence Day," or "Freedom Day."  Some communities observe Juneteenth with parades, festivals, or performances of traditional African / African-American music and dancing.  Others see the holiday as a time to remember and reflect on the struggles of the past…  while also celebrating how far we have come.
Many museums, libraries, and schools host special events or programs to commemorate the day…  such as this  EVENT,  taking place on TCC's Northeast Campus this evening.  It is being hosted by the North Central Texas Alumnae Chapter  of  Delta Sigma Theta Sorority, Inc., and members of our campus community are encouraged to RSVP and attend.  There will be performances of music, dance, theater, and spoken word.
Tariah Horton and the J's Diamonds dance troupe perform in the 2017 Juneteenth parade in Austin, TX**
Where can I find out more?
The J. Ardis Bell Library is featuring a display of books and library materials on Juneteenth during the latter half of the month, from June 15-30.  In our main lobby area, students and library patrons can check out ITEMS that discuss the history of the holiday, as well as the institution of slavery in Texas, and other related topics.
Students are also welcome and encouraged to search for more information through our online Library Databases, available 24/7, from any internet-capable device.  Simply log in with your current TCC student credentials  (WebAdvisor ID & Password).
We can also recommend the following online articles from PBS,  the Smithsonian Institute,  and the History Channel.
Happy Juneteenth!  We'll see you in the Library!
*Image of General Granger, courtesy of civilwartalk.com
**Image of parade, courtesy of KUT 90.5  National Public Radio – Austin, TX
In NE Library, Observances, Special Events, Spotlight on Exhibits, Student Services
September 29, 2017 11:54 am
The J. Ardis Library at NE campus is honored to partner with history instructor Dr. Chloe Northrop and the NE history and philosophy departments to host Looking at Lincoln: Political Cartoons from the Civil War Era from the Gilder Lehrman Institute of American History.
From the Gilder Lehrman website:
This exhibition explores the Civil War and issues of slavery through political cartoons depicting Abraham Lincoln and his policies…As Americans continue to debate the legacy of slavery, these cartoons provide a historical point of reference for current events.
Click here for more highlights about the exhibit.  Accompanying the exhibition is a book display featuring Civil War titles. The exhibit is located on the street level of the library from September 25 – October 25, 2017.
For additional information, please contact Dr. Chloe Northrop at chloe.northrop@tccd.edu.  Library contact is Twyla Reese-Hornsby at twyla.reese-hornsby@tccd.edu
In Business & Social Sciences, History, NE Library, Philosophy, Spotlight on Exhibits
June 12, 2017 6:25 pm
It was 50 years ago, today – June 12th, 1967 – when the United States Supreme Court ruled in the case of Richard & Mildred Loving vs. The State of Virginia.
That ruling – in favor of the Loving family – deemed that interracial marriages were constitutionally protected and legal in all 50 states.  Up until that time, several states  (16, including Texas)  still had anti-miscegenation** laws in effect, which prevented anyone from marrying someone of a different racial heritage.  Many of these laws had been on the books for more than 300 years, going back as far as the early 1660's – more than a century before the United States seceded from English rule.  Maryland and Virginia were the first to enact such laws, prohibiting their white colonial citizens from inter-marrying with black slaves.
**The word miscegenation comes from Latin (miscere "to mix" + genus "kind").  When the term was coined, it referred to "marriage, cohabitation, or sexual intercourse between a white person and a member of another race"
Now, five decades after the historic ruling, interracial marriages are becoming more and more commonplace.  In fact, according to to a recent Pew Research Center report, couples with different racial backgrounds made up approximately one sixth (17%) of all new American marriages in 2015.
For more information on the Lovings and their historic case, we invite you to visit the J. Ardis Bell Library on the NE Campus of TCC.  We have a number of resources available for you, including:
We also have several items available on the subject of interracial relationships.  Click the link to learn more.
If you would like to research the Loving case on your own, click  HERE  to access our collection of online databases.  You may be required to log in with your current  myTCC  Student Credentials, but doing so will allow you to access all our databases and online offerings;  available 24/7 from your home computer or mobile device.
Congressional Quarterly: Supreme Court Collection  and  LexisNexis Academic are two of our legal research databases.  Each one has numerous articles on the Loving v. Virginia case, and all the effects that the ruling has had on American society in the fifty years since it was handed down.
Thank you for visiting the NE Library blog page.  Come back soon to see more articles on library services, programs/events, exhibits, and special observances.  We'll see you in the stacks!
In History, NE Library, Non-Fiction, Observances, Special Events