December 11, 2019 6:51 pm
Leave your thoughts
Welcome to the end of another Fall semester.  Finals are over!  You've made it!
It's time to relax and enjoy a few weeks of vacation before the new Spring term starts…  and that means the Library will be shortening our hours too.  Details below:
Now that the stress of Final Exams has officially ended, the J. Ardis Bell Library is trimming back our hours and getting ready for an exciting new year ahead in 2020.  As we count down these last couple of days before Winter Break, the NE Library will be OPEN:
Thurs, Dec 12, 2019   8:00 AM – 5:00 PM
Fri, Dec 13, 2019   8:00 AM – 5:00 PM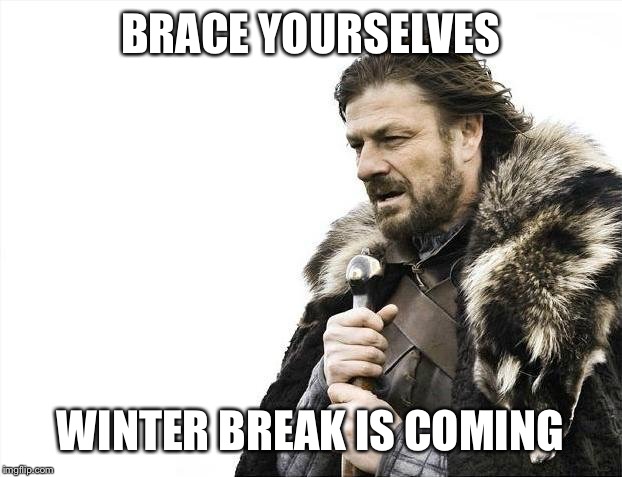 Effective at 5:00 p.m. this Friday  (12/13/19)  the entire Northeast Campus will be CLOSED, in observance of our annual Winter Break.  ALL  Tarrant County College District offices, libraries, and labs will be CLOSED for the duration of Winter Break, from Saturday, December 14th  -thru-  Wednesday, January 1st.
The Library will re-open when we return to campus at 8:00 a.m. on the morning of Thursday, January 2, 2019.
Of course, the library's website will still be available 24/7 throughout the entire Break, along with our collection of electronic databases and e-books.  Any TCC student can access our web-based services by logging in with their current credentials  (MyTCC / Blackboard ID & Password).
Once we return in January, our service hours will be…
Thursday, Jan 2, 2020   *OPEN*   8:00 AM – 5:00 PM
Friday, Jan 3, 2020   *OPEN*   1:00 PM – 5:00 PM
Saturday & Sunday, Jan 4 & 5, 2020   *CLOSED*
(We will be CLOSED on the morning of Friday, Jan 3rd, for Library Staff training.)
"Connections Week" is a semi-annual program that takes place on Northeast Campus, when all of the faculty and staff are gearing up and getting ready for the start of a new semester.  It is a week full of professional development, training programs, curriculum planning, and more.  During "Connections Week," the Library's service hours will be…
Monday, Jan 6, 2020   *OPEN*   8:00 AM – 5:00 PM
Tuesday, Jan 7, 2020   *OPEN*   1:00 PM – 5:00 PM
Wed — Fri, Jan 8-10   *OPEN*   8:00 AM – 5:00 PM
Saturday & Sunday, Jan 11 & 12, 2020   *CLOSED*
(We will be CLOSED on the morning of Tuesday, Jan 7th, for an All-Campus Staff training event.)
Classes will start for the new Spring semester on the morning of Monday, January 13th, 2020.  Our newly updated Library Service Hours will take effect that morning, and will continue throughout the rest of the new term.  Effective this Spring, your NE Campus Library will be open…
Monday   7:00 AM – 10:00 PM
Tuesday   7:00 AM – 10:00 PM
Wednesday   7:00 AM – 10:00 PM
Thursday   7:00 AM – 10:00 PM
Friday   7:00 AM – 9:00 PM
Saturday   8:00 AM – 9:00 PM
Sunday   12:00 PM – 5:00 PM
Remember — the Library's Computer Learning Center and the lower level of the NE Library are scheduled to close 15 minutes before the rest of the building closes.  (On weeknights, for example, the LCLC closes at 9:45 PM, prior to the entire Library closing at 10 PM.)
Monday, January 20th, 2020

The Library will be  *CLOSED*  in observance of the MLK Jr. Holiday

That should carry us through the month of January and well into the start of the Spring Semester.

We hope that everyone enjoys a safe and restful Winter Break.  We'll see you back in the Library soon!

Tags: Closing, library hours, NE Library, Northeast


Categorised in: Library Hours, NE Library, News, Student Services, TCC

This post was written by JAMES PONDER