November 21, 2018 1:53 pm
Leave your thoughts
As many of our readers will know, well-loved comic book writer Stan Lee, born Stanley Martin Lieber, passed away last week, on Monday, November 12, at the age of 95.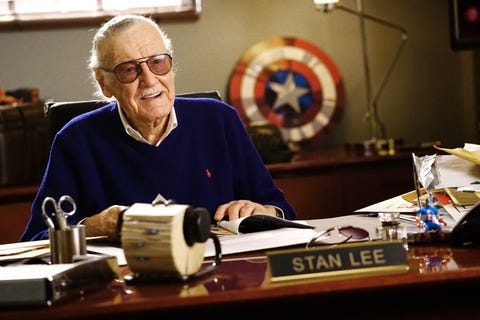 Stan Lee was a comic book author, publisher, editor, cameo film star, and the former president of Marvel Comics.  Lee was the creator of such iconic superheroes as the Avengers,  Spider-Man, the Fantastic Four,  Daredevil, and the X-Men to only name a few…  Throughout his career, Lee became known for introducing comic book readers to the idea of a flawed superhero:  a hero with human failings who, despite being imperfect, could overcome obstacles and still do the right thing.  This was a motif rarely seen before Stan Lee picked up his pen and began writing comics in 1939, for Timely Comics – the company that would later become known as Marvel in the 1960's.
Starting Tues, November 13, and throughout the rest of the Fall semester, the J. Ardis Bell Library is hosting a special exhibit on the upper level, commemorating the life and work of this "Amazing" and imaginative author.  Our memorial display to Stan "The Man" Lee features comic books  (primarily from the 1960's and 70's)  that Lee wrote, as well as later comics published while he was the president of Marvel.  Many of the comics on display are original #1's or "first appearance" issues from some of Stan's most popular series.  All items in the exhibit case are on-loan from the newest staff member to join the NE Library team, Ms. Christie LeMaster, and her husband Chris.
A number of biographies about Stan are on display and available for check out, as well as a selection of current Marvel Comics titles from the library's collection.  Many of the featured characters were among those originally created by Stan Lee.
To search the TCC Library Catalog and see which Marvel comics & graphic novels we carry, click  here, or come in and ask any Library staff member for assistance.
Icon, legend, and a lifelong hero to many of his fans;  Stan Lee was all of this and more.

But for now, he will be greatly missed.

'Nuff said.

Tags: art, fun, graphic novels, hobby, library displays, NE Library, observances


Categorised in: Fiction, Just For Fun, NE Library, Observances

This post was written by JAMES PONDER