March 24, 2017 6:36 pm
Spring semester is already half-gone and the Library staff are just as surprised as our students over how quickly this year is flying by.  While you still can, why not MARCH on into the TCC Library  (See what I did there?)  and check out what's on display this month, before it's gone!
Keep Calm and 3D-Print Cool Stuff!
Did you know that TCC Students have access to some pretty sweet 3D-printing technology here in the Library, through our Computer Learning Center?  It's true.  We have two machines  (appropriately named Thing1 and Thing2) and they are capable of producing all kinds of things…  Come and see for yourself!  Along with the display, we've got a small selection of books on 3D printing, as well as the whole maker-space movement.  (Upper level of the library, near the Alumni Honor Wall)
Painting Outside the Lines
Two of our NE Campus English Dept. faculty  (Debra Frances & Angela Pettit)  are sharing one of their favorite hobbies with us.  They both love to paint (and are pretty darn good at it too)!  Come check out the artwork of some very talented professors…  Showing on both the upper and lower floors of the library, throughout the month of March.
Take One For The Road – – Read Travel Books!
Whether you're cliff-diving in Mexico, sight-seeing in New York, exploring the art museums of Paris, or planning the perfect stay-cation at home on the couch with Netflix…  take a Travel Book along!  We've got the experts' guides on who, what, how, and where for the best destinations in the world, as well as some truly hilarious tales of travel and mis-adventure abroad.  Come check 'em out!  …  and for a sample of what fantastic "travel books" are available at your TCC Library, click HERE.   (Upper level of the library, near the Periodicals)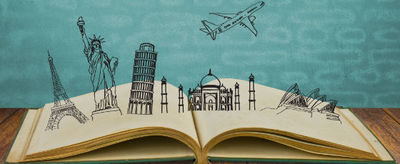 TOYS!
Our Assistant Library Director, Mr. Alex Potemkin, has dug deep into the darkened corners of his childhood  (and his garage)  to share some of his personal collection of classic toys.  You'll see Simpsons figures, WWF wrestlers from years gone-by, super-heroes, Ninja Turtles, and much more!  This display is accompanied by a selection of books on the evolution of toys and toy-making, as well as the history of certain specific toys (such as LEGO, Barbie, and others).  It's playtime!   (Lower level of the library, outside the CLC)
The NE Campus Library Staff are pleased to present a wide variety of displays and exhibits throughout the year.  It is just one more way in which we strive to educate, engage, and entertain our entire campus community, while expanding the learning experience outside of the traditional college classroom.  We hope that you'll come back often  (to the library, and to our blog)  to see what's on display!
In 3D Printing, Arts & Humanities, Just For Fun, NE Library, Non-Fiction, Science & Technology, Spotlight on Exhibits, Student Services, TCC